WordNet 3.0 browser #
This application is a browser of the WordNet 3.0, which is converted to an SQL database by the WordNet SQL project. wnb3 is using a slightly modified version of the wnsql database (a couple of indices is added).
Features #
Case sensitive search
List of lemmas
Hyperlinks
Text view
Tree view
Ontology Tree view
Export text view in PDF format
Works on Windows, Linux, and MacOS X
Freeware
Screenshots #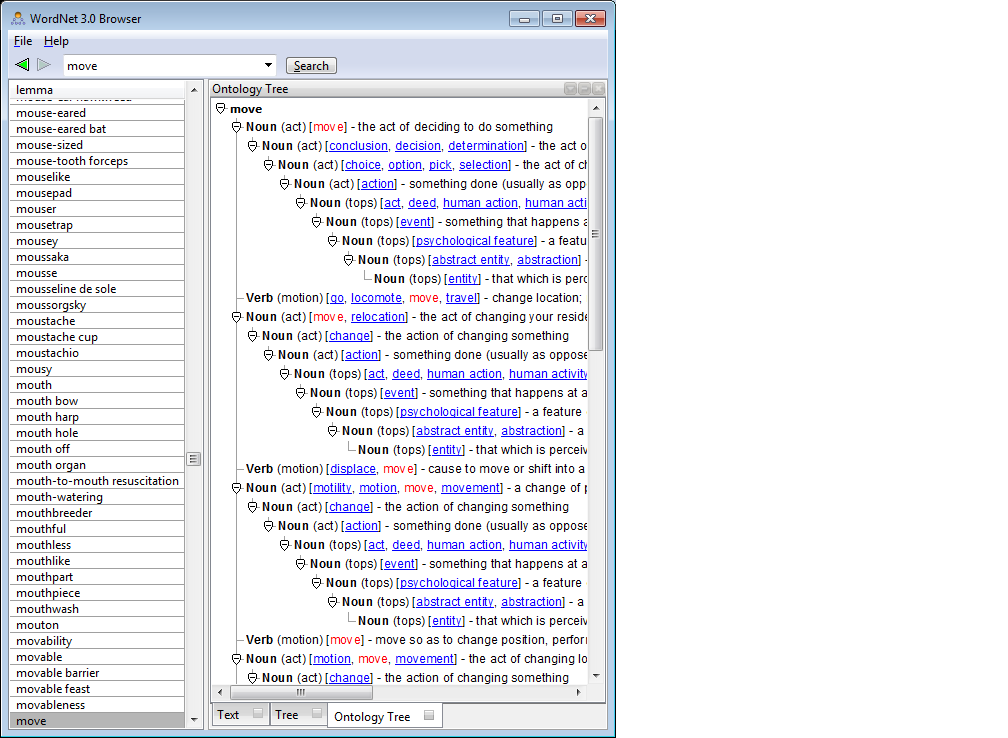 Installation #
Download database and application files and put them into one directory.
Download #
Changes #
Version 0.11

Fixed a crash related to sentence frame examples.

Version 0.10

Fixed a bug related to recursive definition in ontology tree.

Version 0.9

Added PDF report.
Added sense ID to the text view.
Added view options.
Removed docking.

Version 0.8

Recompiled with the latest version of UPP.

Version 0.7

Added Ontology Tree View.

Version 0.6

Fixed looking up for a database in application's directory on Linux.

Version 0.5

Fixed back/forward navigation.
Look for a database in application's directory.